National Employability Assessment Test
for Mercantile, Engineering & Technology
Improve your Employability quotient !
Self Assessment Program
For Central & State Govt., PSU/PSE, Banking,
Railways, Defense, Local authorities and
Corporate, MNC, SME, Private sector entry level jobs

Gives right direction to preparation, towards achieving SUCCESS
Skill Gap Analysis to identify strength & weakness areas
Home based Tests, accessible from PC/Smartphone/Tablet
Multiple number of Tests, simple to complex approach
Scientifically designed assessment
Timer controlled environment
Grades and scores
Certified Assessment Program
Certification by highly prestigious bodies/ societies
e.g. Chamber of Commerce and Industries,
Professional Organizations, indicating Employability Index

Helps candidates to reach out the potential recruiters
Computer based Exams from PAN India exam centers
Rigorous assessment, to meet industry requirements
State of the art evolution process
Grade sheets and score cards
PAN India Talent pool creation
Sharing of merit list to potential recruiters

Who will be benefitted?
Disciplines & Trades
Graduate & Post Graduate
Engineering & Technology
Graduate & Post Graduate
Business Administration
Graduate & Post Graduate
Computer Application
Under Graduate Diploma
Engineering & Technology
Graduate & Post Graduate
Science (Physics, Chemistry, Math, Bio, Pharma)
Graduate & Post Graduate
Commerce, Accounts & Finance
Graduate & Post Graduate
Arts, Humanities & Mass Communications
Graduate & Post Graduate
Hospitality & Aviation
Why NEATmet™ ?
We aim to bridge the gap !
In India, the under-served student masses, especially those that migrate from Tier II and III cities to Tier I cities in search of better job opportunities, face the struggle ever so often. Although they somehow secure decent jobs in other fields, the struggle to find their way into the corporate arena remains.
Similarly, on the other hand, potential recruiters also face challenges to search talent from Tier II & III cities in our country, and sometimes not equipped with proper evaluation teams to reach out and ensure effective hiring.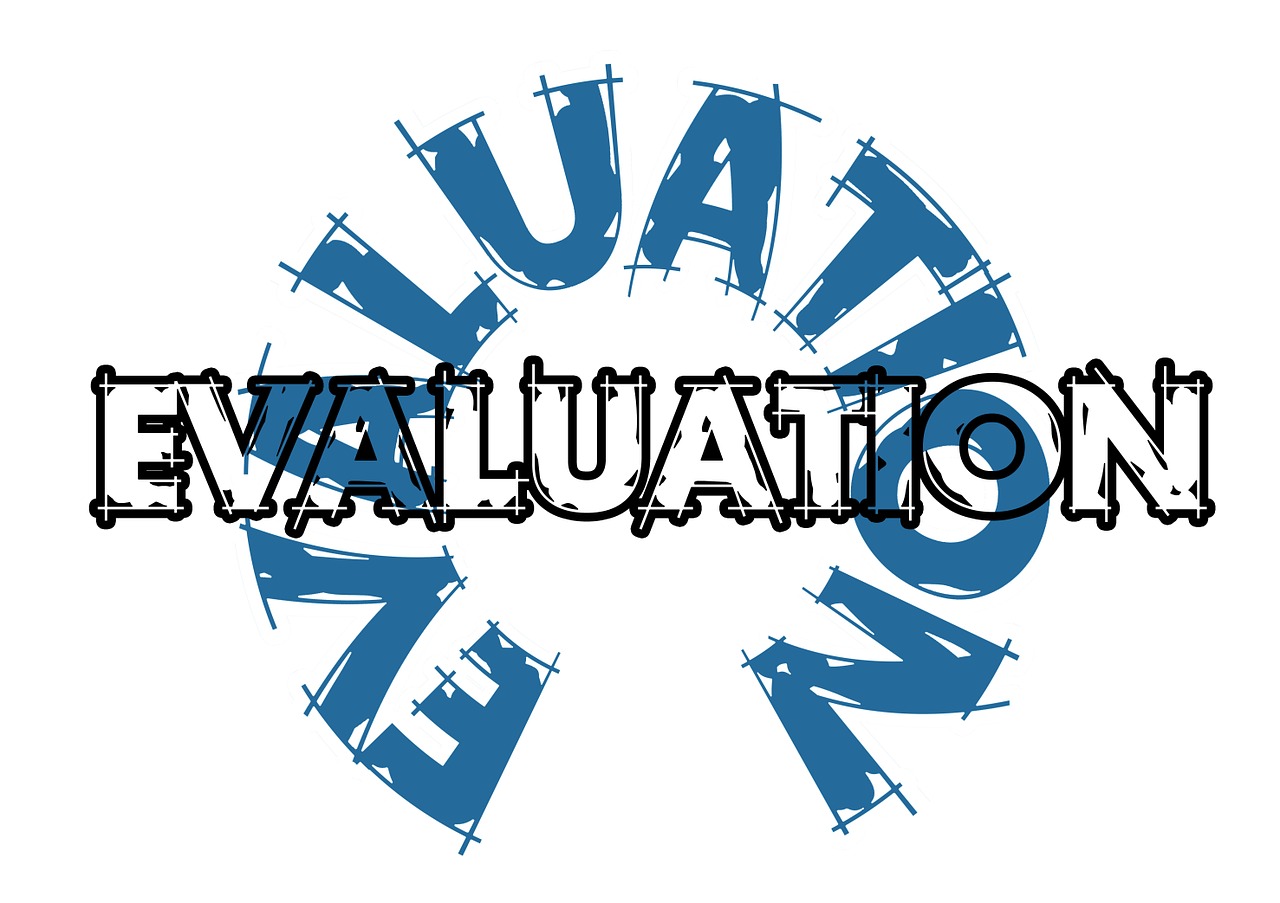 What is?
Employability Index
Employability Index means possessing a set of qualification, skills, knowledge, understandings, attitude and other personal attributes that make an aspiring candidate more likely to gain employment and be successful in the chosen occupations.
Interesting Facts!
The Employability across India
The employability rate for men in India stood at 39% in 2021, which was a decrease by over 7% compared to the previous year. On the other hand, the employability rate for women in the country leaped from 38% in 2017 to 41% in 2021. This marks a very positive growth for both the business sector as well as the social structures in the country.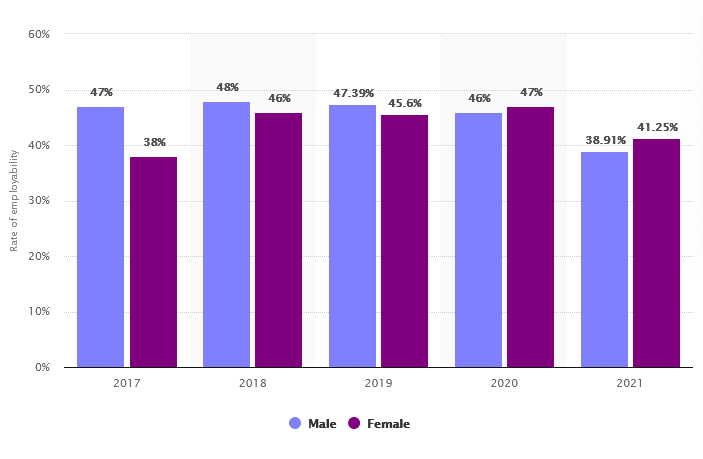 2015 - 2021
How has Employability changed over the years?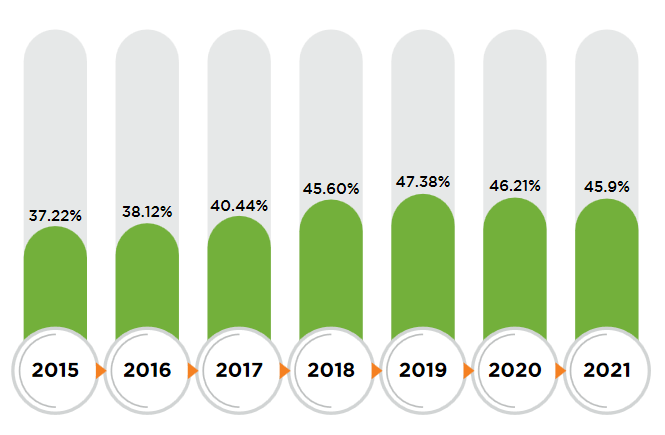 Source: India Skill Report, by Wheebox and in partnership with Taggd, CII, AICTE, AIU and UNDP
2015 - 2021
Which domains have more employable talent?