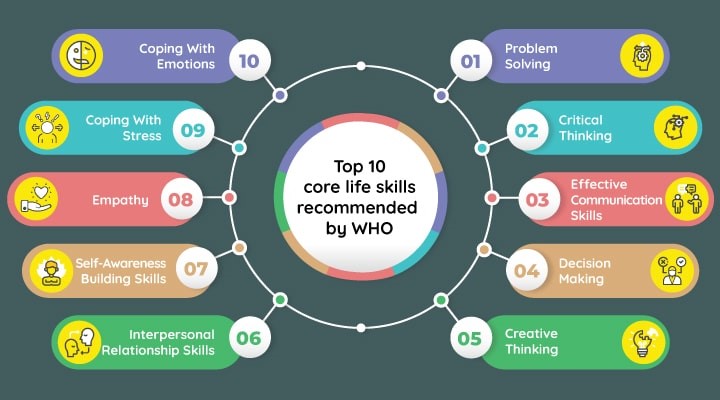 Soft Skills and Life Skills Enhancement
Program Details
Soft skills consist of a combination of people, social, and communication skills, character traits, attitudes, and mindsets, as well as social and emotional characteristics, among others, which are sought for in all professions. Some examples of soft skills include: Communication.
Life skills are defined as "a group of psychosocial competencies and interpersonal skills that help people make informed decisions, solve problems, think critically and creatively, communicate effectively, build healthy relationships, empathize with others, and cope with and manage their lives in a healthy and productive manner. Life skills may be directed toward personal actions or actions toward others, as well as toward actions to change the surrounding environment to make it conducive to health." according to World Health Organization (WHO). Bearing the WHO definition in mind, the Basic Life Skills curriculum offers youth the emotional, social and intellectual tools needed to achieve success in life – on a personal level, an interpersonal level, and within their community and work places.
In this Course, aspiring candidates will learn and enhance their Soft Skills and Life Skills.
What You Will Learn
Stress management

Emotional regulation

Positive thinking

Self-esteem

Empathy

Listening skills

Interpersonal effectiveness

Handling disputes

Managing relationships

Confident communication

Goal setting

Decision making

Problem solving

Critical and creative thinking

Executive function skills

Resilience
Program Includes
Chapter-wise Interactive Video Lessons

Q&A Forum
Requirements
Basic knowledge of Class X-th standard will be enough to understand the course content
Who will be Benefited
Young generation aged 15 to 30 years old

Candidates preparing for higher studies

Candidates preparing for competitive exams e.g. Central & State Governments, Public Sectors, Banks, Railways, Defense, Local authorities etc.

Candidates preparing for Corporate, MNCs, Private sectors etc.
Program Curriculum
Effective Communications
Understanding the Communicative Environment – I

Understanding the Communicative Environment – II

Communication Styles

Speaking in Groups

The World of Visual Culture I

Visual Perception

The Aural : Its relevance and Impact

The Body and the Way It Communicates

The Face, Its Expressions and What It Says

Social Network, Media and Extending Our Identity
Interpersonal Relationships
Conversations
Creativity
Problem Solving
Presentation
Emotions
Leaderships
Pursuation and Negotiation
Time and Stress Management
Workplace